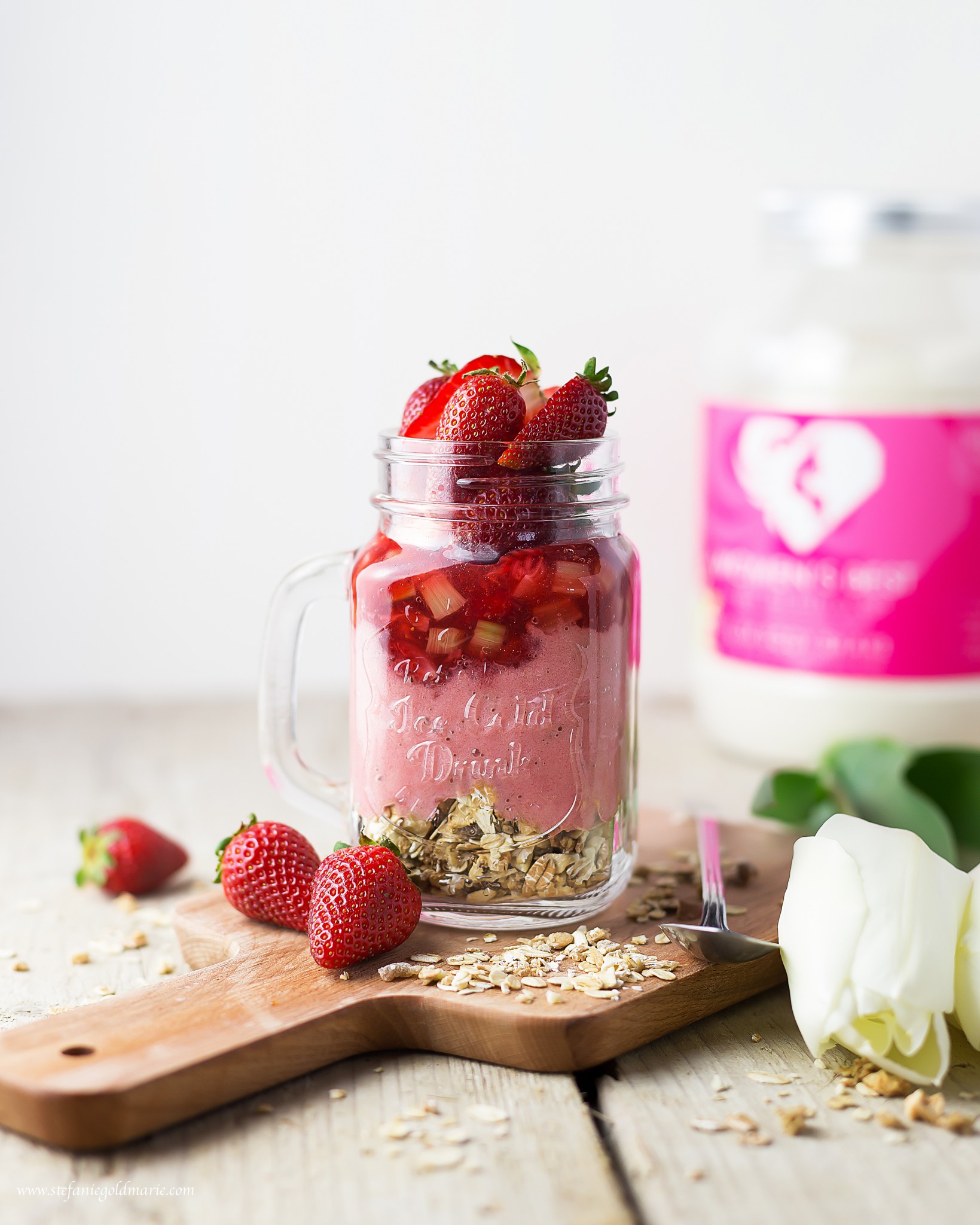 Hey ihr Lieben,
der Sommer kommt immer näher! Und mit ihm auch wieder ein paar andere Rezepte als immer nur Pancakes, Crepes, Waffeln und Co. Es ist wieder Zeit für Smoothies und alles, was fruchtig, frisch und süß ist.
So auch dieses Strawberry Rhubarb Smoothie Jar mit Nuss Granola, Kompott und frischen Beeren, das ihr im Handumdrehen zubereitet habt und sich super als schnelles Frühstück To-Go eignet. Denn auch wenn es kompliziert ausseiht, braucht ihr keine 10 Minuten dafür-versprochen!
Noch dazu stecken lauter gute Dinge in diesem Jar: Nuss Granola von My Müsli, ein Smoothie aus frischen Beeren, Banane und etwas Protein, dann noch ein fruchtiges Erdbeer-Rharbarber Kompott und zu guter Letzt frische Beeren. Na wenn das nicht mal vielversprechend klingt!
Ihr habt also nicht nur eine super leckere, sondern auch ausgewogene Mahlzeit. Außerdem könnt ihr euer Smoothie Jar komplett vegan zubereiten, wenn ihr wollt. Ich habe hier den Slim Body Shake von Women´s Best in der Geschmacksrichtung Vanille verwendet, der aus Soja Protein besteht und sich super für Smoothies eigenet. Jedes andere Protein funktionier aber genauso.
Also, wer hat bei dem Anblick nun auch Lust auf Sommer, Sonne und frische Früchte bekommen? Dann gibt´s das alles jetzt schon-zumindest am Frühstückstisch mit diesem Strawberry Rhubarb Smoothie Jar.
Hier das Rezept.
Xoxo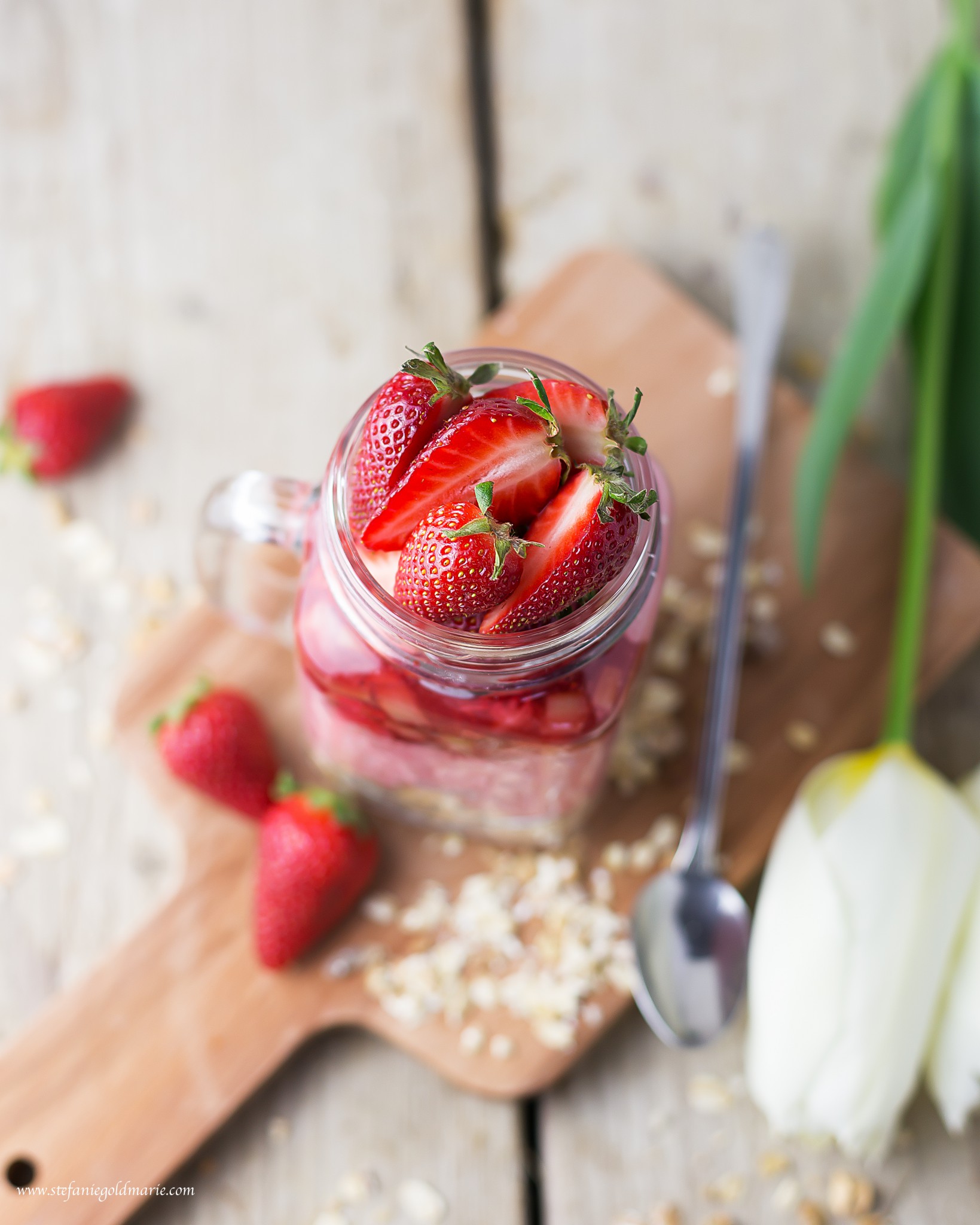 ---
RECIPE, serves One
---
Zutaten
50g Nuss Granola
1 Banane
1 EL Griechisches Joghurt
250g Erdbeeren
20g Vanille Protein
Bourbon Vanille
50g Rhabarber
1 EL Xucker
Johannisbrotkernmehl
Zubereitung:
50g Erdbeeren, 50g Rhabarber, Johannisbrotkernmehl und Xucker für eine Minute aufkochen lassen.
Banane mit 100g Erdbeeren, Joghurt und Protein mixen.
Granola ins Glas geben und den Beeren Smoothie darauf schichten.
Nun das Rhabarber Kompott auf den Smoothie geben.
Restliche Beeren drauf-fertig.
Nährwerte für das ganze Glas: 462 Kalorien, 63g Kh, 24g Protein, 11g fett
Ingredients:
50g Nut Granola
1 Banana
1 Tbso Greek Yoghurt
250g Strawberries
20g Vanilla Protein
Bourbon Vanilla
50g Rhubarb
1 Tbsp Xucker
Dash of Carob Gum
How To:
Cook 50g Berries with 50g Rhubarb, Xucker and Vanilla for a Minute.
Mix Banana with 100g Berries and Protein.
Fill Granola in a Glass and layer with Banana Berry Smoothie.
Now add Compote.
Finally, top with more fresh Berries-done!