Hey ihr Lieben,
Wie sagt man bei Quest immer so schön: Cheat Clean! Oh ja, denn genau so hat dieser French Toast auch geschmeckt! kein Wunder also, dass er den Namen Chocolate Crunch French Toast verdient! :p
In letzter Zeit hat ja nach meinen Topfenknödel vor allem das Rezept für den Baked Coconut French Toast bei euch auf Instagram einen kleinen Hype ausgelöst. Das freut mich wirklich so so sehr! Aber French Toast ist auch zu gut, oder? Also ich bin ein echter Fan von der gebackenen Version geworden.
Nun muss aber mal wieder was Neues her. Eine zugegeben ein wenig 'ausgefallenere' Version, die vielleicht nicht für jeden etwas ist, denn erste Voraussetzung ist: ihr müsst Quest Bars mögen :p
ABER ich bin mir auch sicher, dass jeder, der das Rezept probiert, es lieben wird! Denn es schmeckt genau so wie sich ein Chocolate Crunch French Toast anhört-mega mega gut!
Auf die Idee mit dem Chocolate Coating hat mich übrigens heute meine Liebe Valentina (@valentinaballerina) durch diesen Post von ihr auf Instagram gebracht, der einfach nur WOW war und sowas von zum Nachmachen eingeladen hat!
Gesagt, getan also! Wie schon bei den anderen Rezepten für Baked French Toast kommt auch diese Version ganz ohne zusätzliches Öl aus. Trotzdem wird der Toast aber schön knusprig. Weiteres Plus: ihr braucht nur wenige Zutaten und er bereitet sich auch quasi 'von selbst' zu :p
Dazu gab es bei  mir noch ein wenig Kakao Griechisches Joghurt als Fülle, Beeren drauf und natürlich noch ein paar der leckeren Quest Crunchies! Die habe ich übrigens ganz einfach gemacht. Unten mehr dazu, aber auch als Topping für Joghurt oder Oatmeal und Pancakes eignen sie sich super! (vor allem für jene, die mehr von den geliebten Quest Bars haben wollen :p)
Hier das Rezept!
Xoxo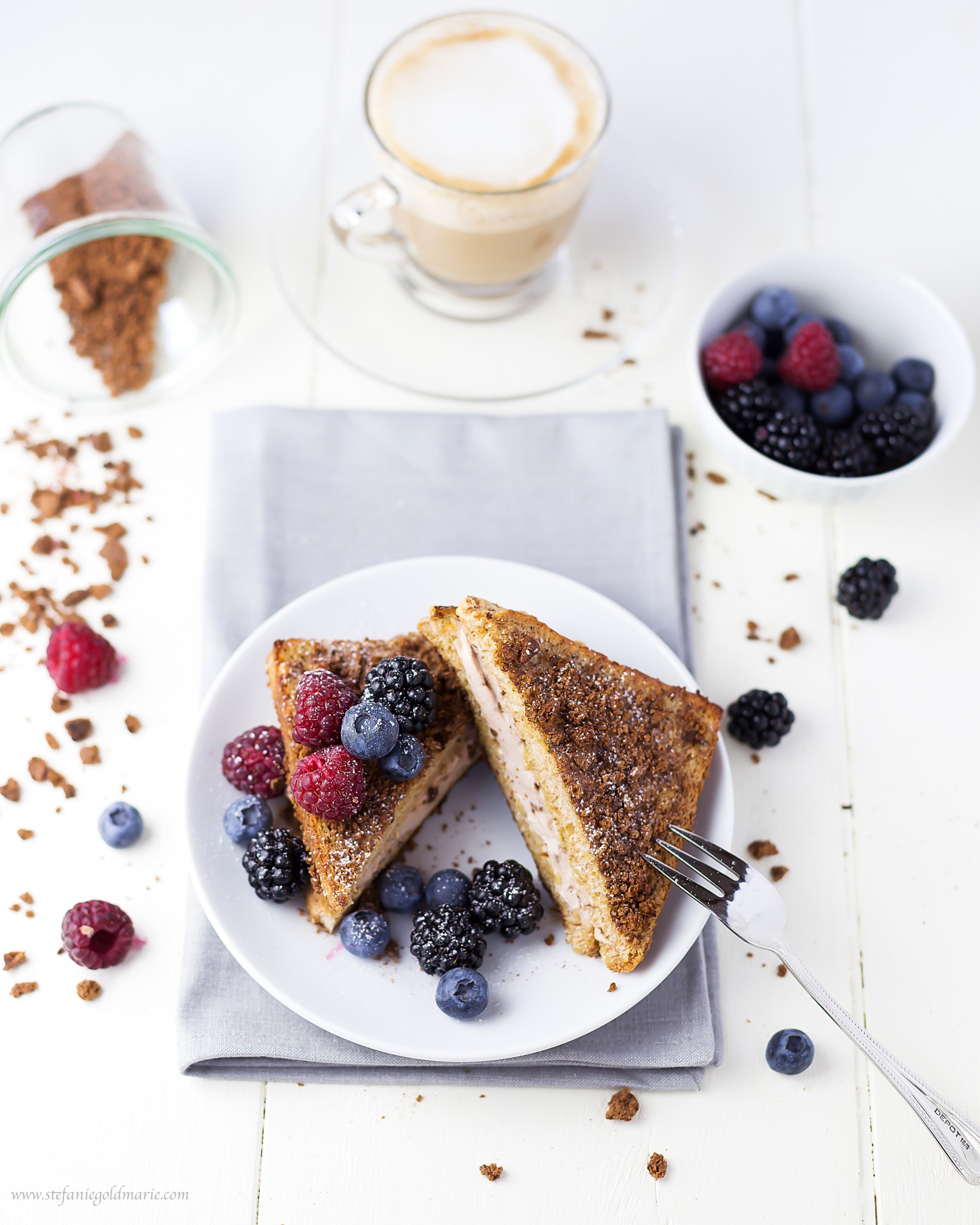 ---
RECIPE || 1 Portion (two-three Toasts)|| wheat free, sugar free, no Oil used||about 20 Minutes||easy to make
---
Zutaten/Ingredients:
2-3 Scheiben Dinkeltoast/2-3 Slices Spelt Toast
1 Ei/1 Egg
2 EL Milch/ 2 Tbsp Milk (I use Soy Milk)
1 TL Vanille Whey oder Mehl/1 Tsp Vanilla Whey or Flour
1 EL Xucker light/1 Tbsp Xucker Light
Bourbon Vanille (Xucker) nach Belieben/Bourbon Vanilla (Xucker) as desired
Zimt/Cinamon
Double Chocolate Quest Crumbles*
Toppings nach Belieben/Toppings as desired
*einfach einen Double Chocolate Chunk Quest Bar für 5 Minuten backen, auskühlen lassen und dann zerbrechen./Just bake a Double Chocolate Chunk Quest Bar for five Minutes, let cool down and break up.
Zubereitung/How To:
Heizt den Ofen auf 175 Grad vor./Pre-heat your Oven to 175 Degrees.
Mixt das Ei mit der Milch, Xucker, Whey/Mehl, Backpulver und Vanille./Combine Egg with Milk, Xucker, Whey/Flour Baking Powder and Vanilla.
Taucht die Toasts nach und nach in die Ei Masse./Dip the Toasts one by one into the Egg Mass.
Gebt Zimt und Quest Crumble drüber./Sprinkle with Cinnamon and Quest Crumble.
Legt sie auf ein mit Backpapier ausgelegtes Blech./Place them on a Baking Sheet which is covered with Baking Paper.
Backt sie für zirka 15 Minuten auf mittlerem Einschub im Ofen, wobei ihr sie nach etwa der Hälfte der Zeit wenden solltet./Bake for 15 Minutes on a Middle Track, but turn them round after half of Baking Time.
Toppt eure French Toasts dann noch mit frisschem Obst, etwas Joghurt und mehr Quest Crumble Stücken./Top with fresh Fruit, Yoghurt and more Quest Crumble as desired.
Enjoy!
Nährwerte/Nutritional Facts (3 Toast ohne Topping/3 Toasts without Topping): 322 Kalorien/Calories, 33g KH/Carbs, 17g EW/Protein, 12g Fett/Fat
Und vergesst nicht, mich wie immer zu taggen, wenn ihr eines meiner Rezepte probiert! #stefaniegoldmarie @stefaniegoldmarie
And don´t forget to tag me when using one of my Recipes! #stefaniegoldmarie @stefaniegoldmarie